Hey, y'all. Happy New Year! I know this is coming a week too late, but I've been a little busy. To catch you up on all the things I've been doing outside of Reading Whale, here's a little recap: I graduated college, did a little traveling, celebrated the holidays, and most importantly — read lots of books.
That leads to… another recap. Since I have done so much reading, I wanted to share some reviews, but in a way we all can enjoy. So, without further ado, I introduce you to mini reviews. These three books were my last of 2019/first of 2020 and since I've been gone for so long, I wanted to dive straight in to updating you. I really enjoyed all of these books — so let me know if you have read or want to read any of them!
Everything, Everything by Nicola Yoon
I loved this book. It was a very fast read, and it's Nicola Yoon at her most lyrical. I know I loved The Sun is Also a Star when I read it a few years ago, and with Everything, Everything, Yoon delivers yet again.
Everything, Everything tells the story of Maddy, a girl confined to her house because of SCID, also known as 'bubble boy disease.' Olly and his family move to the house next door and it changes Maddy's life for good and for worse. The bubble (pardon the pun) around the life she thought she was okay with pops, and she finds out what a life with love is worth. Spoiler: it turns out it's worth everything. It's beautifully written, full of first love jitters and a really amazing plot twist at the end.
My favorite part of Everything, Everything was the use of non-prose space. It bends perfectly with the story and tells more than the characters do. It was flawless. Yoon used everything from a ten-year-old diary entry, a credit card application, and drawn pictures of astronauts and earth to communicate with the reader outside of just words. It was really, really well done.
The slight hesitation I have about this book comes from the typical YA fallacy: ignoring real life. So many things go unexplained (a few to reveal the plot twist later), and it's annoying when reality intrudes for the reader to say, actually that is definitely not how it would go down. I wish those moments were less pivotal in this book.
Sing, Unburied, Sing by Jesmyn Ward
Sing, Unburied, Sing is a book that really hits you in the heart. It's beautiful and lyrical, and literally the whole time, you'll be like 'man, someone really wrote that?!' It's clear why Jesmyn Ward has won two National Book Awards.
It tells the generational story of a family living in southern Mississippi. From the perspectives of Jojo, Leonie (Jojo's mother), and Richie (someone Jojo's grandfather knew), this story dives deep into family, love, race, and home. This story is strong and poignant. It deals with race and relationships with emotional eloquence.
Sing, Unburied, Sing does have elements of magical realism/the supernatural that drive pieces of the plot. These elements are also clearest in some of the ugliest, most heartbreaking pieces of the story — like in Jojo's grandmother's cancer and Richie's story. The magic helps readers find the truth at the core of the book.
I will say, if you are like me, you are constantly looking for the title reference in a book. In this case, Ward keeps it close to the very end. And the last chapter is gorgeous in it's explanation (so you have to make sure to make it that far). This book is also slightly academic/literary, so be prepared to buckle down and pay attention. It's worth it.
You Deserve Each Other by Sarah Hogle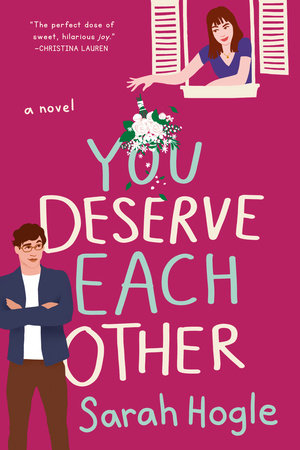 Naomi and Nicholas are engaged — but they hate each other. So begins a contest of wills to see who will call off the wedding and break the news to Nicholas's parents. At least, that's how it starts. Naomi and Nicholas rediscover why they fell in love through a series of misadventures and mistakes. And the end is literally too perfect. I love it.

I couldn't stop laughing throughout this book. The predicaments the characters find themselves in while battling their emotions out are incredible. I also enjoyed that this book went beyond the romance, and into familial relationships and Naomi's work life and friendships. It really made the book feel real, and it went outside of the typical rom-com tropes.
The only nit-picky thing I didn't like about this book were the pop-culture references. Naomi mentions Riverdale fanfiction and compares things to the Upside Down (from Stranger Things, for the non-Netflix fanatics). These references just brought the age-level down and didn't add anything to the plot. It's very small — it just annoyed me when it happened.
You Deserve Each Other is perfect for fans of enemies to lovers stories and redeeming relationships. Similar books I thought of were The Hating Game and The Unhoneymooners. I loved this book and really recommend it to other rom-com fans! 
---
I hope you enjoyed these mini reviews. Have you read any books in 2020? Be sure to let me know what they were!